Protein Markets
Soybeans top $16 for the first time since 2012.
US Soybean planting is now 42% complete, vs 22% average.
China bought two beans cargoes yesterday for July, one Argentine, one Brazil.
WASDE report due out overnight with forecast carry out stocks/plantings. The average trade guess is less bullish then the last report.
Brazil's drought continues to reduce likelihood of any water being released down the Parana River to aid draft restrictions on up river vessel loading.
China canola production forecast at 14.5MMT up 3% from last year.
Australian canola prices continue to push near the $800/mt mark for next season.
PKE Markets
 Rains have been widespread across much of the palm belt over the last week helping improve soil moisture.
Malaysia announces a month long lockdown to curb the latest covid outbreak. Whilst agriculture and shipping are deemed exempt activities logistical /harvest, disruptions are expected to continue to hamper nearby supplies.
 Local PKE markets remain tight as dairy farmers continue to feed late into the old season pushing prices back to recent highs.
Grains Markets
US corn planting is now 67% complete, vs 52% average.
Ukraine spring wheat and barley sowing is now complete however, maize and sunflower continues to lag normal pace.
Investor participation in corn markets is at the highest levels seen since 1995, exceeding 2012 where the US had its worst drought in modern times.
Brazil Safrina corn crop rated 30% bad.
Good rainfall across the West Coast of Australia and eastern NSW continue to aid crops.
Australian cereal crop approx. 30% sown. SA continues to lag normal progress due to dry conditions.
Australian export capacity remains very tight with severe logistical delays across the east coast and available stocks in SA tightening due to fast export pace.
NZ maize harvest now over 50% complete in the upper north. Rainfall this week may slow progress. Despite good yields there are very few tonnes remaining in farmer hands.
AIMI report had NZ crop down 3% on last year. Unsold grain on farm has fallen by 25% compared to this time last year.
NZ wheat demand remains high, 2022 interest is in strong demand with prices pushing higher in the last few weeks.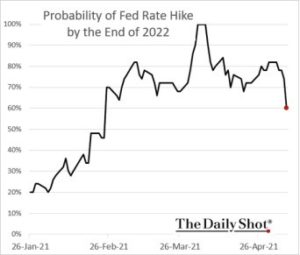 Currency / Political
NZD/USD currently trading at 0.727.
Probability of fed rate hike slipped as US data comes in poorer than anticipated.
With US reporting season coming to a close and record profit margins (for now), low yields and a view that holding cash is futile. Companies are returning to buying back their stock at record highs funded but cheap debt.
Brent oil currently trading near USD68/barrel.
Dairy Markets
NZ MKP for 20/21 season currently $7.70/kg/ms.
 NZ MKP for 21/22 season currently $7.72/kg/ms.
NZ MKP for 22/23 season currently $6.81/kg/ms.
Based on current nearby milk prices if they hold, dairy farmers could be looking a t$9/kg/ms next season.
Fonterra capital restructure looks to reduce farmer wet shareholding requirements from the current 1:1 ratio to 1:4.
Fonterra share price has started to bounce back post sell after capital structure announcement.